This is what I like doing most. I never get tired of it – take something that's considered bad for you and turn it into something that you feel great about having – your tongue loves it, and your body thanks you for it. This is a rare combo – I tell you… By the way, that's why I call it "functional" – it boosts your body's functional abilities.
I initially saw this is a recipe  in a forum (a version of it) but… you know me – I had to re-work it and make it functional (performance). So, I shifted some of the ingredients around, added lots of protein and made it not only "good for you", but each serving could now be considered a whole meal!
For a regular size, average activity level person or for a female – all the needed protein and fats are there – less the sugar (no insulin rush). If you are double that size or very active – like a serious athlete – or you work heavy labor – then have two. Nothing wrong with that.
So, here we have a…
Homemade Low-carb "Functional" Ice Cream Recipe – Key lime + Protein
(Nutrition Facts table at the bottom)
What you will need:
180g (3/4 cup) half & half
100g (1/3 cup + 1 Tbsp) key lime juice
130g (1 cup) powdered erythritol
1.3g Reb-A (or 8 drops of stevia extract 90% steviosides)
1g (1/4) tsp salt
100g (4 scoops) whey protein isolate (unsweetened, unflavored)
1g (1/3 tsp) Xanthan gum
1g (1/3 tsp) Guar gum
350g (1 1/2) cups heavy cream
5g (1 tsp) vanilla
60g (1/2) cup chopped nuts (optional, not included in nutr. facts)
How to prepare:
Combine erythritol, salt, whey, reb-A, xanthan and guar and set aside.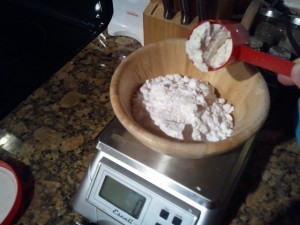 Combine half & half and key lime juice. Heat mixture in a saucepan until bubbles start to form.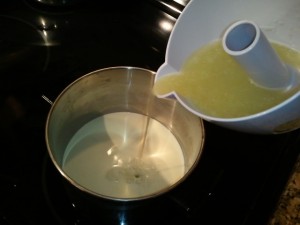 Remove from heat and stir the erythritol mixture in with a spatula until dissolved. Then stir in the 1 1/2 cups heavy cream + vanilla.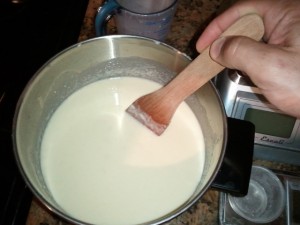 Refrigerate for at least 4 hour.
When chilled, pour into freezer bowl of ice cream maker and let mix until mixture thickens, about 20-30 minutes.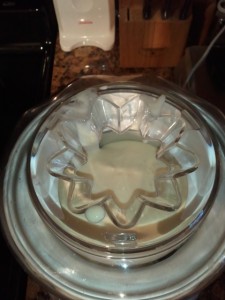 Half way through churning in the ice cream maker drop in the optional chopped nuts.
Pour into 8 small cups. Freeze. When ready to have one, take it out of the freezer and leave at room temperature for 10 min or in the fridge for about 1 h. The ice cream hardens in the freezer, so you will have to do that as it will be too hard to eat.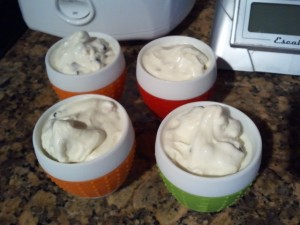 That's it.
What you should expect – a final result that is much like what you'd buy in store, but without the sugar and with protein, which turns the thing in the cup from something you should have very occasionally into something that you should actually have whenever you want. Why? Because the bad stuff is out (let me not hear anything about saturated fats, please) and the good stuff is in. In other words, from "an exception" we converted this into "the rule". No cooling effect from the erythritol, either. Bam!
Here are the nutrition facts for you. I'd say this ice cream recipe is very paleo… if you leave aside the dairy in it. Enjoy. Let me know how it turned out… Oh, and if you have any questions..
Nutrition Facts (without optional nuts)
Serving Size: 1 small cup (110g)
Servings 8
Calories per serving 245
Total Fat 19g
Total Carbohydrates 19g
NET Carbs 6g
Fiber 0g
Sugars 0g
Sugar Alcohols 16g
Protein 13g