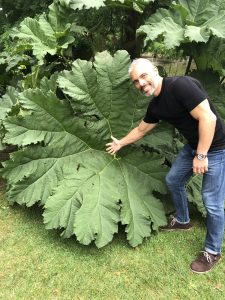 Who are you?
Every time I get asked that I give the same answer but always with different words. So I get to surprise even myself. Let's see what comes out today.
I am just a man on a journey to free himself from the bondage of cultural conditioning, race consciousness, herd mentality, all the early conditioning which reduced me to a sleeping participant in the matrix.
What fascinates me is the process of re-membering, of gradually reclaiming the freedom and the liberty I had when I was a small child – before I was locked in a box and made believe that I don't have the key to get out.
Ultimately, what I'm after is full ownership of who and what I am coupled with my best attempts at self-authorship, accessible to me at my current level of remembering.
I was born and grew up in Bulgaria. The first 16 years of my life – in Communism. I immigrated to the United States in 2002 when I was 28. I spent 16 years in the States in Tampa, Florida, and Austin, Texas. I became a US citizen in 2015.
In 2018 I left the States for what I thought was going to be a few months sabbatical. I ended up in Europe and shortly after that in Malaysia where I spend almost 2 years.
Currently, I live in Málaga, Spain.
Some of the many things I've done in life:
Natural Bodybuilding – 3rd in the world in my weight class in Musclemania
Owned and operated a small alternative foods bakery
Became well-trained and qualified to teach others the craft of the handgun
Became trained and well-rehearsed in ethical communication & influence, human psychology & behavior, community building & experience design
What do you do?
I am in the business of human upgrades. I connect people with their inner sources of power. It's kind of hard to explain what I do.
Qualifications
(I get to talk about my achievements yay… Ego happy!)
Master of Science in Industrial ManagementABNLP Certified NLP Master CoachABNLP Hypnotherapy CertificationABNLP Applied NLP in Business Communication CertificationMindvalley Certified FacilitatorSOMA Awakening Breathwork InstructorHandgun InstructorBodybuilding InstructorMovNat Natural Movement Level 1 Instructor
Do you have a Purpose, a Mission in life?
I believe, at the highest level, my only purpose is to experience life profoundly. I strongly believe that this is your ultimate purpose, too. Nothing more, nothing less.
My current Mission
To create a massive impact in the world by gifting 1,000 complimentary coaching sessions in 500 days – and finish this project with success by July 30th, 2022.
Seems like you've put some time into knowing who you are and what drives you. Can you tell me more?
Sure. Here are these few "bullets" of sorts that form – and inform – my personal philosophy. I get to look at this quite often so as to not forget who and what I am and also to keep up with the latest iteration of me.
Passions
Morning coffee and reflection

Studying

Creating + delivering transformational content

Story-telling

Deep conversations and connections 1-1

Quality time with my lady

Kizomba dance

Physical exercise (progressive calisthenics)

Dark chocolate, handcrafted coffee, micro- and nano-brewery handcrafted beer, red wine, good cheese, shisha
Beliefs
No matter what has happened in the past you can create the future you want

Being an introvert is not a negative – it's a bonus

Identity change leads to reality change

Anyone can be authentic and unapologetically themselves

Fear is just a sensation in the body brought about from the anticipation of future pain

You are not broken no matter what you were made to believe about yourself

Your past doesn't define you. Your present thoughts about the past define you.

The Unconscious mind holds or has access to the answers you'll ever need

Confidence is a result of taking action, not the cause of action

Each action taken grows your confidence. Each action not taken chips away at your confidence

Planning gives confidence

Not keeping the promises you make to yourself erodes your confidence

Life is like a video game. At each level, you must "gather health" points to go to the next level

Taking time daily to reconnect with yourself is essential and non-negotiable

Being peacefully unapologetic about who you are is polarizing – and that's great

The ability to handle discomfort is a learnable skill

Exploration is more important than Discovery
Things I've done to conquer my fears and limitations
Done a firewalk

Extreme Close Quarter Combat training (ECQC)

Given a Starbucks speech standing on a chair

Lied down on my back at an airport for 15 min

Humeinly killed and processed an animal for food

and more
If I asked you for one single message you have for others, what would that message be?
When you stop being afraid of dying you will stop being afraid of truly living.
Peace.
Ivan